Featuring: Croatian Master Chef Mr. Šime Sušić
This unique kayak adventure is for the discerning paddler who loves food, wine and exquisite paddling.
We will explore the crystal clear turquoise waters of the Adriatic Sea by day and enjoy the best Croatian Wine, Cheese, Olive oils by night. Master Chef Šime Sušić will seek out the best food, wine and kayaking in the Mediterranean. You will be on sensory overload for 9 days!
We will paddle the Geological Park of Rab, visit the former political prison on the St. Gregory Island, circumnavigate the rugged Island of Prvich, explore the Roman town of Krk, visit the old Monastery Island, camp in the old Oak tree forest of Plavnik and paddle the stunning coast of Cres. Dolphins, deer and the largest Eurasian bird, The Griffon Vulture, will keep an eye on us while we feast and frolic in Eastern Europe's best kept secret!
Croatia: Gourmet Tour Of The Adriatic
9 Days / 8 Nights
per person from:
$2,299
?
Currency Conversion
Converted from CAD based on the latest exchange rate. Final amount and payment will be in CAD. Final conversion rate is determined by your bank.
"It is so refreshing going on a trip where you can see beautiful sites, eat fantastic food, and kayak as you travel. I would recommend this to anyone looking to go on a trip that is truly unique."
— Margaret Sunley
Croatian wine, cheese and olive oils
Master Chef Sime Šime Sušić
Exploring 6 different islands
Oak forest of Plavnik
Olive plantation
Ancient historical sights
Caves
Griffon Vultures
Deer
Kayaking
Snorkeling aquamarine waters of the Adriatic Sea
Beautiful clear turquoise sea and rock formations
Velebit Mountains
Trip Dates
2019
July 5 - July 13 CLOSED FOR BOOKINGS
Aug 30 - Sept 7 CLOSED FOR BOOKINGS
2020
June 27 - July 5
Sept 4 - Sept 12
<!- TIMELINE ITEM -!>

DAY 1: ARRIVAL AND RAB SIGHTSEEING

Group transfer from the Rijeka Airport to Rab. Dinner is a traditional dish, at our residence followed by the trip briefing. We will give out dry bags so you can pack later for the trip. You can also leave the excess luggage at our base and we'll bring it to you back on day 9. Our base is a 15 min walk from the center of the old town so you can relax and explore the rich history of Rab.

ACCOMMODATION: Private Accommodation

<!- END OF TIMELINE ITEM -!> <!- TIMELINE ITEM -!>

DAY 2: GEO PARK RAB & CHEESE TASTING

We will pick you up after breakfast and transfer you to our paddling starting point, on the beach of Pudarica. Load our kayaks and start our gourmet adventure. Lunch in the Bay of Mag and time for your swim in the Adriatic sea. After lunch we paddle towards our destination point-the Bay of Ilo, situated under the highest point of the Island (408 m.) Enjoy the beautiful clear turquoise sea and rock formations. Dinner and cheese tasting will be served on the most beautiful pebble beach on the NE side of Rab. We will sample Croatian cheese made in several surrounding areas; from the Island of Pag, Krasno in the Velebit Mountains, Dalmatian remote places and more.

PADDLING DISTANCE: 18km ACCOMMODATION: Camping

<!- END OF TIMELINE ITEM -!> <!- TIMELINE ITEM -!>

DAY 3: ISLAND OF GRGUR AND WHITE WINE NIGHT

After breakfast we'll continue exploring the NE side of the Island passing by the fresh proclaimed Geological Park, meaning geologically diverse with all kinds of natural wonders. We'll stop in few caves, paddle under high cliffs and we'll even jump into one big cave and then dive out! Lunch will be on the Island of Grgur. After lunch we paddle under some more beautiful cliffs before reaching camp in the main port where the former political prison was. Dinner and wine tasting which will include the best local wines and wine from different regions of Croatia. Our dinner guests will be deer hoping you will accidently drop your food.

PADDLING DISTANCE: 22km ACCOMMODATION: Camping

<!- END OF TIMELINE ITEM -!> <!- TIMELINE ITEM -!>

DAY 4: RUGGED ISLAND AND RED WINE TASTING

After breakfast we will say goodbye to our forest friends and paddle across the canal toward the rough Island of Prvich. We will circumnavigate the largest unsettled Croatian Island and where the beautiful Griffon Vultures nest high up on the cliffs. We then cross the Senjska Vrata canal and paddle by the coast of the Island of Krk until we reach the Bay of St. Nicholas where we will enjoy another wonderful dinner and wine tasting. But this time we'll be trying some of the best reds, or as the Croatian's say "black wines" of Croatia.

PADDLING DISTANCE: 22km ACCOMMODATION: Camping

<!- END OF TIMELINE ITEM -!>

DAY 5: PUNAT - THE BAY OF OLIVES

After breakfast we paddle by the numerous bays and beaches in search of the perfect spot for a swim and snorkel. We then pass the lighthouse on cape Negrit and a few miles later we will stop for another swim. After our swim we enter the sheltered bay of Punat – a town well known for their olive plantation. We paddle to the small picturesque island of Košljun where we will visit an old Monastery with some rare collections including the Ptolemy's atlas printed in Venice in 1511 (one of the three preserved copies). After our visit, we paddle toward our camp for the night.

PADDLING DISTANCE: 22km ACCOMMODATION: Camping

<!- END OF TIMELINE ITEM -!> <!- TIMELINE ITEM -!>

DAY 6: ROMAN KRK AND MYSTICAL PLAVNIK - OLIVE OIL TASTING

After breakfast, we paddle toward the old roman town of Krk where we will visit ancient historical sights. Continue our paddle to the Island of Plavnik, settling down in the South forested bay. This Island, like many islands in Croatia, has its own rich history. We will explore the ruins of the village and then settle in to the old Oak forest. Tonight, is the olive tasting session. We will try more than 6 varieties of olive oil made from the different regions with very different characteristics.

PADDLING DISTANCE: 16km ACCOMMODATION: Camping

<!- END OF TIMELINE ITEM -!> <!- TIMELINE ITEM -!>

DAY 7: VULTURE DAY

After breakfast we have a short paddle to the cliffs where the Griffon Vultures nest. We are not allowed to make any noise here as we commune with our surroundings. A short crossing will take us to the 6'th Island of the trip, the Island of Cres. This section of our paddle will take us along the beautiful coastline where you will begin to notice the flora changing… as we pass the 45'Th parallel. A few more stops along the way before we reach our pebble beach for the night.

PADDLING DISTANCE: 20km ACCOMMODATION: Camping

<!- END OF TIMELINE ITEM -!> <!- TIMELINE ITEM -!>

DAY 8: BELI

After breakfast we spend our last day paddling along the cliffs where the vultures are nesting towards the tranquil town of Beli. Here you will start to exhale from this extraordinary experience. Our camping site is in Pansion Tramontana that is situated next to the Educational Research Centre for the Protection of Nature in Beli. There is a world renown rehabilitation center for Griffon Vultures who have sustained injuries (we saved one vulture that got stuck in a cave). To help them out in their recovery process you can adopt one of them for a year. Our last dinner is in the restaurant where we will reflect on our Croatian Kayak Adventure.

ACCOMMODATION: Camping

<!- END OF TIMELINE ITEM -!> <!- TIMELINE ITEM -!>

DAY 9: OFF TO THE AIRPORT

Breakfast and organized transfer to Rijeka Airport. Have a safe flight home and we hope to see you again on another Earth Travellers get-a-way.

ACCOMMODATION: Your own bed!

<!- END OF TIMELINE ITEM -!> <!- TIMELINE ITEM -!>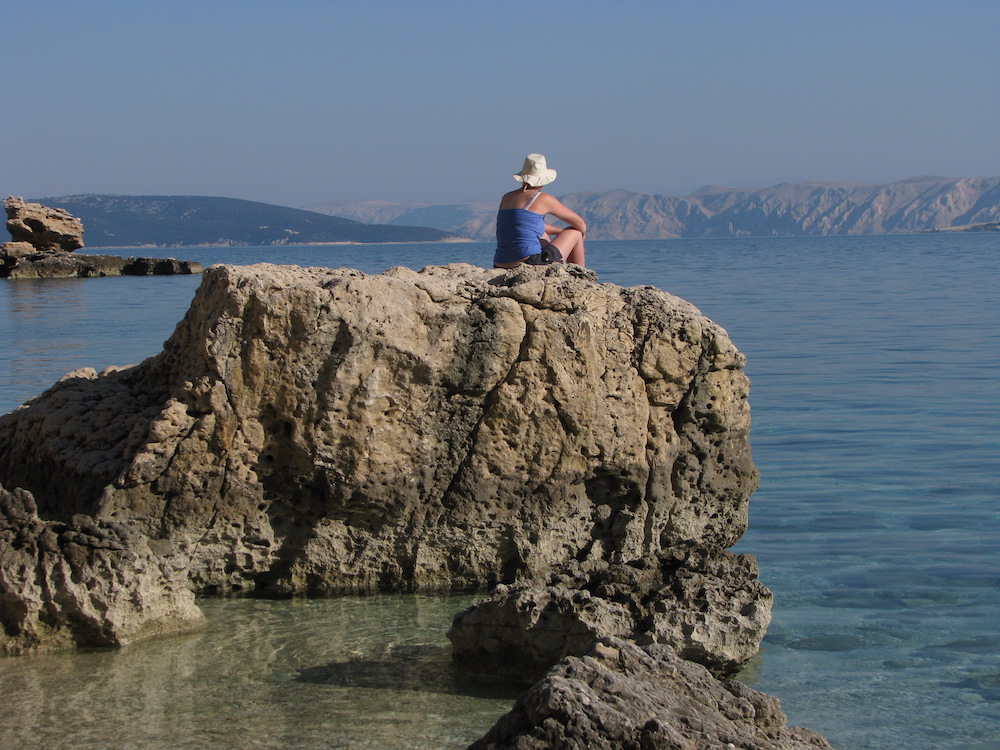 Included
Accommodation

Meals

Experienced Guides - English speaking qualified/certified/approved

Transfer from and to Airport (Rijeka).

All transport and listed activities within the program

Water, accommodation on day one and on day eight. Kayak, sprayskirt, lifejacket, paddle, dry bag, tent, guiding.
Not Included
Activities and accommodation outside the program

Flights

Flight Cancellation Insurance

Airport Fees

Sleeping Bag

We suggest you bring an inflatable sleeping pad.

Beverages

Additional Orders In Restaurants
Remember
Sometimes things don't go as planned. Flexible travelers with a sense of humor consider it part of their adventure. Our partners work very hard to make your tour unfold seamlessly, but sometimes itinerary changes happen. ET thanks you for your understanding
HAVE QUESTIONS?
Fill Out The Form To Email Us!
See Our Leave Home Getaways